Download our Case Study:
Brazosport College Success Story
Read how Mango helped Brazosport College promote engagement between the library, campus and community culture.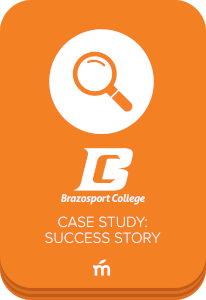 Meet Brent Cooper, the reference librarian and library service director for Brazosport College. Brent saw the Brazosport library was lacking electronic language resources that could help students across disciplines. He worked with Mango Languages to create an integrated solution.
Download the case study to learn:
How Mango helped Brent connect work with language departments to integrate the library's offerings with their lesson plans
How students found an "addicting" way to learn English as a second language with the Mango software
Why Mango rose above the competition as an answer for Brazosport's community of language learners
If you're looking to purchase Mango for individual use, click here. If you have questions, please visit our FAQ or our blog.